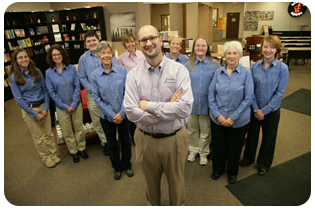 District Drugs and Compounding Center is a family-owned compounding only pharmacy located in Rock Island, Illinois. We strive to meet the unique needs of our patients by making quality compounded medications. Our state-of-the-art compounding laboratory contains pharmaceutical grade chemicals and specialized equipment not found in most pharmacies, such as an ointment mill, electronic mortar and pestle, and a capsule machine. We also offer many convenient services such as a drive-thru window, shipping, and online refills.
Our pharmacist, Jim Perry, RPh has specialized clinical training in customized hormone therapy, women's health and much more! Private consultations with a clinical pharmacist are available by appointment. In our pharmacy you will find only pharmaceutical grade nutritional supplements.
We are open Monday – Friday 9:00am - 5:30pm, and always enjoy helping with all of your health care needs. If you have a question after hours, you can e-mail or leave a message on our answering machine. At District Drugs, you can have confidence in our quality, service and selection. We want to be your compounding pharmacy. Visit us today!
Now accepting most major insurances.